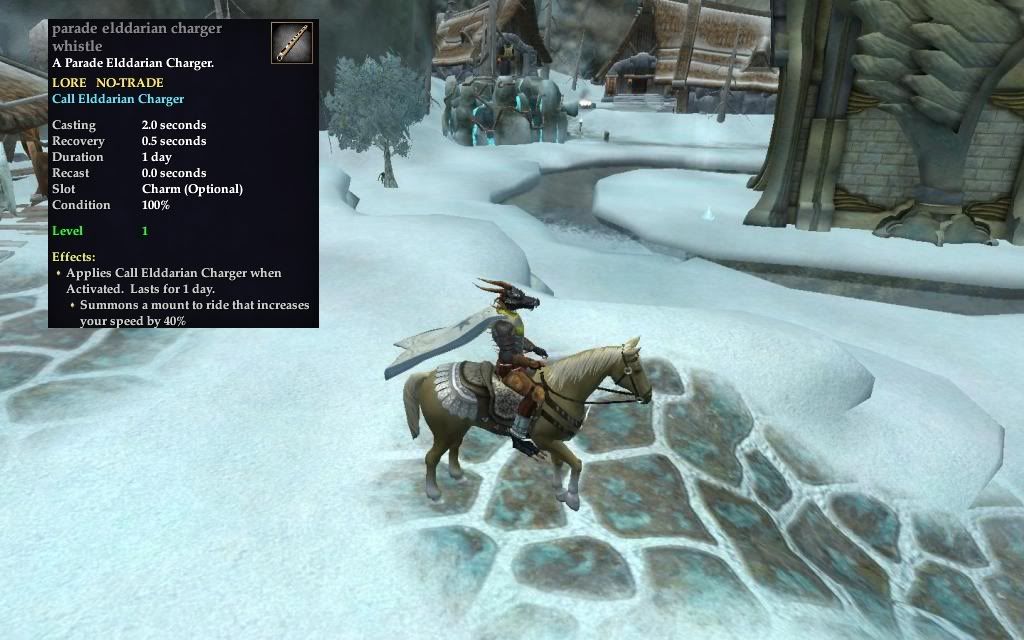 I was lucky enough to have a brokering spree earlier, selling over 11 platinum worth of items I had found in Kelethin and its surrounding environs. Specifically, I sold off a coin collectible for 6 or so platinum along with various other knick-knacks.
Thanks to all that money, I had enough to shell out for a 40% speed horse mount, whose speed I can augment with my Shadow AA choices. I'll call my charger Ryuki, which basically means Dragon Rider in Japanese.
Speaking of things of an Asian nature, I found out through my guild about the Isle of Mara, and the Village of Shin. Apparently, I can go there even if it's a high-level zone, and there's a quest there called "A Gathering Obsession" that allows me to earn around 17 gold with the  completion of each phase. In a nutshell, I have to go around certain areas scrounging for crafting materials of specific tiers per phase.
My current phase, Phase III, requires me to find gatherables in Nektulos Forest and the Thundering Steppes. Easy enough, I suppose, except for one thing: The Fishing part requires a lot of patience. It's tough to find nodes underwater, and my speed is reduced when I'm in the drink, making it quite time consuming to do. Nevertheless, I'm committed to seeing this adventure through to its final phase… all for a cloak that makes me an even better gatherer.
The things I do for adventure, I guess!
About the Author
Victor "Stillwater" Barreiro Jr. is a Twitter-loving, game-playing, stuff-thinking writer who enjoys conversing with people online without inciting rioting or summoning trolls. Also, he loves his mom dearly. :) You can also find him on Twitter at http://twitter.com/#!/iamstillwater