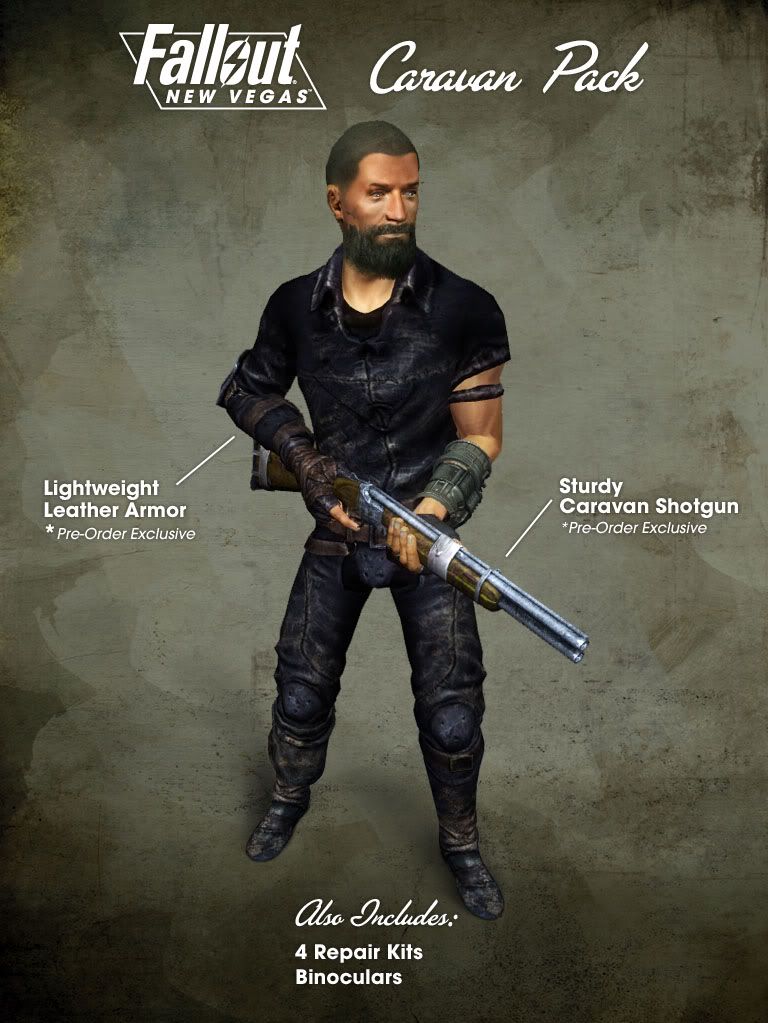 I love it when things pop out on my general gaming radar that appeal immensely to me.
Let's cut to the chase, shall we? Fallout: New Vegas is now available for pre-order via various distribution channels, and just about each and every one of them has special goodies in store for people if they purchase early.
The one I can actually purchase based on my location is the Caravan Pack pre-order goodie set, which I can get if I ever decide to pre-order from Steam (probably won't happen, but still). It comes with:
– Lightweight Leather Armor – This hand-modified suit of leather armor reduces its overall weight without impacting its ability to protect.
– Sturdy Caravan Shotgun – Despite its rough appearance, this Caravan Shotgun will reliably fire 20 gauge shells until the Brahmin come home.
– 4 Repair Kits – Useful for repairing any outfit or weapon, Repair Kits are a valuable tool for any caravaner.
– Binoculars – The Mojave Wasteland is a dangerous place, but with these trusty Binoculars you'll be able to spot trouble coming.
Of course, you can always check out the full list of pre-order packs available by checking out Bethesda's blog.
Also of note this week is the fact that it's Bethesda Weekend on Steam. Some of you may like it, and others may not, but the lure of grabbing Elder Scrolls III and IV for under 15 dollars and Fallout 3: GOTY for under 30 (and I bought it at full price!) is impressively strong. Check the posting on Steam for more details.