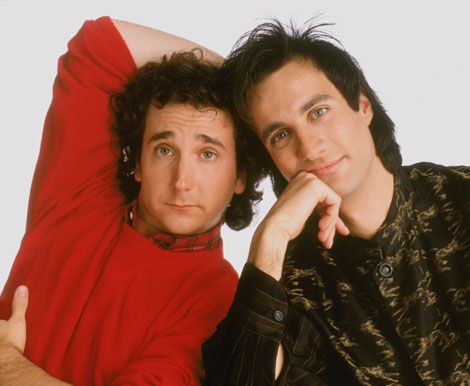 With all the recent commotion over the Perfect Strangers flash game, I've been listening to the theme song for the show and as I was listening, thoughts about blogging came to mind.
After a few seconds, my mind just clicked, and it was like I learned more about my time blogging from listening to the Perfect Strangers theme song.
Sometimes the world looks perfect. There's nothing to rearrange.
This is I felt when I started blogging and had my blog organized and my first post introducing myself to the public set up.
Sometimes you just get a feeling like you need some kind of change.
Eventually, I began to feel like something was missing. Writing about just one game (for me it was WoW at first) felt constricting, so I kept trying other games and writing about non MMO things. Everything felt like fair game to me to write.
No matter what the odds are this time, nothing's going to stand in my way.
Originally, I thought about various minutiae and statistical information. I wanted to know if people were reading my writings. I felt determined to make it as a writer for a video game website, or to make a living through writing. This was a rather depressing point of view to take, because I write in a way that is very non-confrontational, and I kept getting disheartened by my situation.
This flame in my heart, and a long lost friend gives every dark street a light at the end.
I kept writing, and I stayed in touch with friends, and it was with the help of many twitter friends that I realized, I enjoyed it whether I was being paid or not. Strangely enough, it was also a twitter friends who helped me to take a risk on myself, and eventually I got a part time job writing professionally.
I realized, if I wanted to write as an outlet, it should not matter too much how many people were reading it if I could simply get my thoughts out in a way that felt right for me and showed it to people open to what I had to say. It was gratifying to realize that.
Standing tall, on the wings of my dream. Rise and fall, on the wings of my dream. 
You will have good days and bad days writing.
People may read you and like or hate what you say (as it happened throughout my nearly 10 years of personal, professional and leisurely blogging), but you have to be a good sport about it and stand above the muck they might want to throw at you and respond in a dignified manner to show that you aren't going to stoop to their level.
The rain and thunder, the wind and haze, I'm bound for better days. 
You have to be optimistic about your writing. Even if you're not optimistic about everything else, you have to look forward thinking that you support what you write and your words have value. This keeps you going on the bad days, and keeps you from taking a break from writing that becomes an abandonment of your hobby.
Just remember, if that rain, thunder, wind, and haze is a storm, do not use your computer.
It's my life and my dream, and nothing's going to stop me now.
That's definitely what I tell myself these days, and it's a great life-affirming statement to keep in mind.
GO LARRY AND BALKI! GO WRITERS GO!
About the Author
Victor "Stillwater" Barreiro Jr. is a Twitter-loving, game-playing, stuff-thinking writer who enjoys conversing with people online without inciting rioting or summoning trolls. Also, he loves his mom dearly. :) You can also find him on Twitter at http://twitter.com/#!/iamstillwater