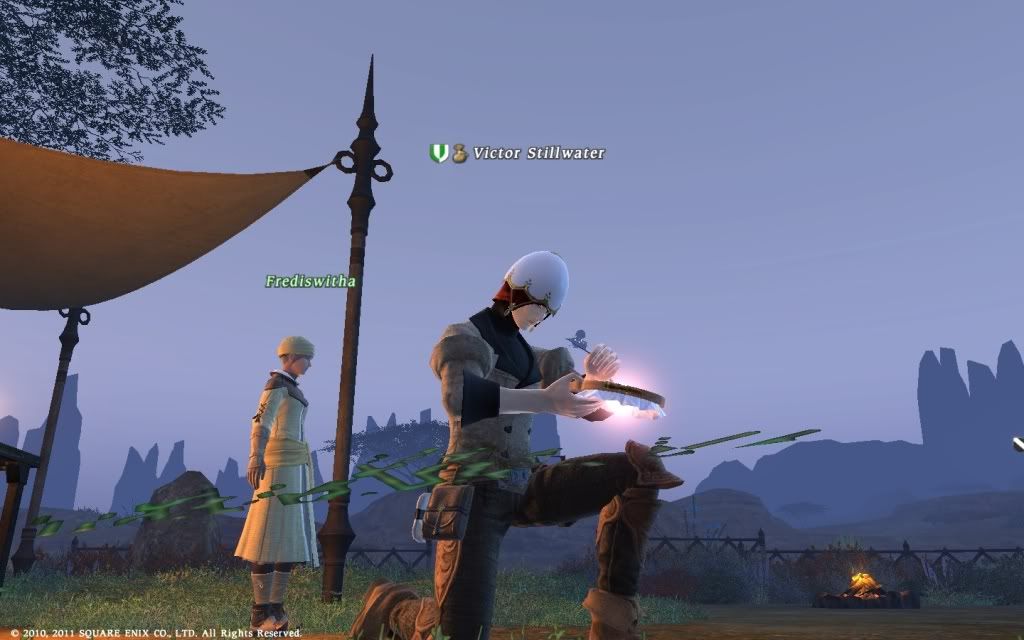 Let me say this to start: Crafting for 30 minutes without stopping can wear me out faster than a 14-hour marathon of general gaming. It is either due to the process of repeated crafting being boring or relaxing, but I have trouble telling which one it is when I manage to slump in my seat.
That said, I would like to begin this installment of my Extended Look at Final Fantasy XIV by talking about crafting and the economics of the game at present.
Final Fantasy XIV's system is what I'd call an active crafting system rather than a passive one. In active crafting systems, the crafting process does not assure you of success, so you have to be vigilant during the crafting process so as to maintain success throughout the attempt to make something.
While I won't go into the specifics of the crafting system here, as I just linked a basic crafting guide for you, it can be said that Final Fantasy XIV crafting is a very involving and time-consuming process, not only because each crafting attempt takes time to complete, but also because finding materials with which to complete usable tools, weapons, and armor can be rather daunting.
In the first case, each crafting attempt, whether it is successful or not, gives you skill points that eventually rank up your skill at the given craft. While the skill leveling process is the same for all character types, it's only in the gathering and crafting classes that failed attempts to acquire a new product can give you some amount of progress. That said, however, it still takes a lot of crafting to get anywhere in this game, unless you use your local levequest allotment to offset the slow nature of the attempts.
Individual crafters are rarely able to produce items relative to their level. To make a spear, for example, you will not only need abilities in crafting the wooden shaft and the spear head (Carpenty and Blacksmithing, respectively). You will also have to procure items that can only be done by people who've surpassed that level in a different craft (such as armorcrafting or alchemy), as a higher level item from a seemingly unrelated profession is usually required in order to make the final product.
This ties in somewhat to the economy of Final Fantasy XIV. Whereas most gamers are probably used to auction house systems, Final Fantasy XIV has a bazaar and personal shop system that allows you to hire a retainer who will sell goods on the market for you in addition to selling items on your own personal bazaar. The game is designed to not be a soloist's affair, because if you want to make something worth using, being in a linkshell (the equivalent of a guild) or rummaging through the packs of other players and their retainers in the Market Wards of capital cities is part of the game.
Recent developments have made the process easier , though still less convenient than what people are used to. You can now search for specific items available in Market Wards and can track down retainers who sell sell it the cheapest, but you'll still need to go into individual wards to get the item from the retainer. It's a bit disjointed, to be honest, but it's not an insurmountable obstacle to playing the game.
The thing I like about all this running about and craft grinding though is that for a goal-oriented person like myself, I can actually see myself progress, and I can pace myself according to my own needs or desires. If the crafting is tiring me out but I am so close to leveling up, I can push myself a little harder. If I've used a guild hall's facilities to get a boost to my crafting success rate, then I feel more inclined towards using that time dedicated to improving  a particular trade.
What this does mean, however, is that I have slow progression for any individual trade. On the other hand, I do have a ton of experience now in trying and mastering the synthesis process for different crafts,  as well as an increasing stock of knowledge acquired from referring to recipes for the various tradeskills. That, and I'm far more savvy now in finding bargains than I used to be seven days ago.
In any event, what I deem to be a relaxing and somewhat fulfilling experience can be seen by others as a bit of a pain, but in my opinion, the struggle to maintain your composure on a difficult synthesis attempt coupled with a rousing success gets the adrenaline pumping and brings a smile to my face.
Check back tomorrow for part three of this Extended Look at Final Fantasy XIV!