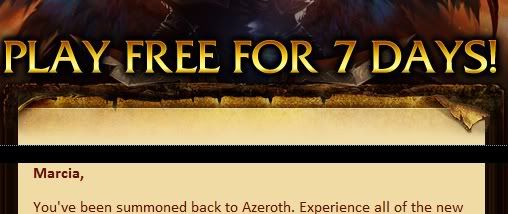 I received a legitimate from Blizzard today that I found to be very weird.
Blizzard is trying to win back customers with a seven-day pass to World of Warcraft for inactive subscriptions. There was just one problem: The name affixed to this email, which was connected to my World of Warcraft account, was "Marcia."
Who is Marcia? I haven't the foggiest.
What I can say is that I grew worried and checked my account immediately upon receiving the email. I found that it was still intact, with my authenticator keeping security tight, and that the email was legitimate since there was a notice below my account offering me seven free days to return to Azeroth.
That process took all of four minutes, and yet I still had no idea where this Marcia person came from.
To that end, I sent a ticket to Blizzard so that it could be investigated, and they got back to me in less than five hours. The result, according to the CS rep, was thus:
I reviewed your account, and it appears that your Battle.net account *is* under your actual name. The discrepancy is with your World of Warcraft account, which appears to be under Marcia's name at one point. Since the email was automatically sent out, it just looks like a little mistake on our computer's part.
Of course, I shot back a follow-up question asking if the name could be changed to my name just so everything's properly represented, but I expect them to get back to me on Monday. Still, at least I now sort of think I know the name of the person who hacked my WoW account so many years ago (unless it's an alias or someone else's name, of course). Here's to hoping none of my accounts ever get hacked again.