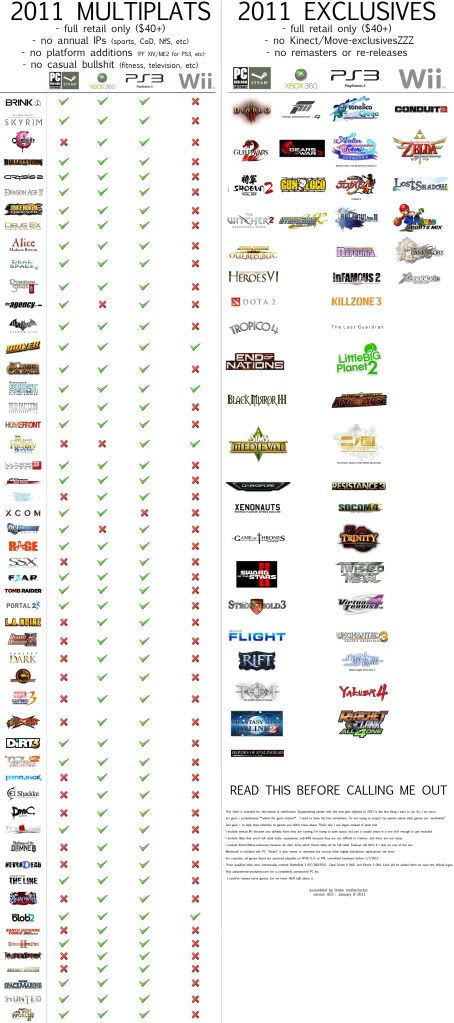 One of my Google searches for upcoming games in 2011 had me stumbling back into the NSFW recesses of Sankaku Complex, where one article they had was a huge 1.2 MB picture of a list of multiplatform and exclusive games to the PC, PS3, Wii and Xbox 360. While Sankaku Complex said it asserted the dominance of the PS3 over the two other consoles, it seems fairly evident that the PC would be the place to go if you really want a lot of games.
I can't seem to find the original author of the picture but I'm guessing that this listing is perhaps incomplete to a certain extent as well, seeing as it's a day or two old and something new must have happened between the posting and now that would require a minor update.
Added to the picture above is a link to a blog by Adrian Werner, who also has another extensive list of PC-specific games to look forward to for 2011 and beyond.
Anyway, the point of this post is that there are a ton of great games to look forward to, and it's an exciting year for me, for a lot of reasons. I'm hoping 2011 will be much better than the year before it, and I pray that good things happen to all of us, regardless of our gaming preferences.
As Stargrace of MMOQuests would say, "Happy gaming, no matter where you find yourself!"